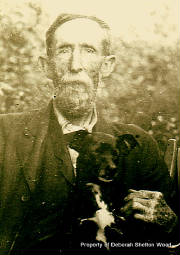 Bluford Calhoun Coleman
29 VA Inf. Reg. CSA Company D
Enlisted as a Private on 31 August 1862 in Carroll, VA
Hospitalized on 16 March 1863 at Petersburg, VA
Returned on 03 April 1863 at
Wounded on 12 May 1864 at Halfway House, VA [Shot in left arm].
Hospitalized on 13 May 1864 at Richmond, VA
Furloughed on 10 June 1864 at
Transferred on 29 December 1864
Transfered in Regiment RC on 29 December 1864 Sources: The Virginia Regimental Histories Series. 1987
Bluford aka Buford/Beauford, married Margaret "Maggie" Willard.
They are my greatgrandparents.

Rufus Hurst
of Wythe County, Virginia
Enlisted as a Private on 31 July 1861 in Wytheville, VA
Enlisted in Company B. 51st Infantry Regiment Virginia
Then joined The 22nd Regiment Virginia Cavalry, also known as
Bowen's Regiment Virginia Mounted Riflemen, which was
organized October 27, 1863. Rufus married Virginia E. Farmer.
Rufus and Jennie were my gg-grandparents.

Thomas Jackson Bradner
Thomas J. Bradner
Company: F
Unit: 29 Virginia Infantry.
He was also in Co. E of the Virginia Infantry.
He was wounded in battle on May 16 1863 Drewery's Bluff
Library of VA pension documents show that he received a
gunshot wound in left arm and artillery shell in right eye
pensioned at age 65 in 1888
Thomas J. Bradner and his wife, Jacksa Jane Shadrick lived in Carroll County, Virginia and were my gg-grandparents.


ISAAC FARMER

Company: D Unit: 50 Virginia Infantry and
Company: C Unit: 24 Virginia Infantry.
Injured by gunshot wound to right wrist during
the Battle of Drury's Bluff, Virginia.
Isaac Farmer born in Grayson Co Va. on "Farmer's Mountain", made his home in Carroll Co, Virginia with wife, Nancy Early.
They were my ggg-grandparents.