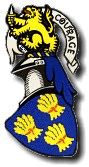 Questions remain to be answered about the Cummins families here. This page does not attempt to answer those questions but to show my theory of the lineage, as I believe it to be.
Alexander CUMMINS and Sarah MUTTONE were married around 1694 in Wicomico Parish, Gloucester County, Virginia, where Sarah's family lived. Her birth is estimated to have been about 1680. Their son, Malachi CUMMINS, born 1695 who married Elizabeth (probably Elizabeth FURR) continues the lineage. Here, I present my theory of the descendancy and pedigree of Alexander Cummins.
~A simple descendancy chart from Alexander Cummins down to my grandmother, Neva Hurst.~
~ A pedigree chart with Alexander Cummins at the bottom, moving up with each generation of ancestry.~
About these families.
Nicholas Cummins I
Will of Nicholas Commins: Son Nicholas all my land after wife's death: failing heirs, to my dau. Elizabeth Harrison, wife of Robert Harrison & her 3 children: wife Ellen exec; the orphan Elizabeth Hooper (that I keepe) one cow calf at Robert Harrison's. Eliz: H. & her 3 children every one a gold Ring of 24 shillings. Wife & son-in-law Robert Harrison overssers. Witns: Robert Harrison his mark, Jeffrey Moore, Nicholas Comins N.C. his mark. Written 12 Sep 1655; Proved 24 April, 1656, York Co. VA.
Nicholas Cummins I, sailed to America from the port of London, England to Virginia on the "Gifte" on Feb 4 1622. Alternate ship name "Gifte of God". I remain in question as to where he lived before coming to America.
He appears in 1623 and 1624 in the Muster of Inhabitants of Virginia Settlements, as living at a Plantation near James City. Source: Hotten's Lists.
In 1629 Nicholas was named Land Surveyor;
"Commins, Nicholas--In 1639 he was one of three tobacco viewers for the area east of Archer's Hope Creek."
Eleanor, wife of Nicholas Cummins I
Ellen was widow of John Elison. "Archer's Hope" 1657 Virginia Land Records.
She came to Virginia on the ship Charitie" (Charity)
Source: Hotten's Lists.
Eleanor married Francis Wheeler after Nicholas died.
She mentions her son, Nicholas Comins in her Will, written 13 Apr 1660.
Nicholas Cummins II, not yet of age when his father's Will was written, eventually married the orphan mentioned in his father's Will (also not yet of age), Elizabeth Hooper.
William Cummins and son Alexander Cummins.
"Allex'r Cummins Son To Wm was born Dec'r 10 1677"
Virginia Colonial Abstracts 1937/49.
~~~~
Alexander Cummins and wife, Sarah Muttone
Sarah and sisters are named in the selling of the land of they inherited from their father, John Muttone. Land record, Northumberland Co VA, dated 4 July 1707.
John Muttone married Sarah. His father was John Muttone,Sr.
John's Will is dated 26 May 1678 in Northumberland Co, VA.
It is said that John came to America in 1623. He received denization papers which indicate that he was not English born. He was probably a French Hugenot.
Malachi Cummins, son of Alexander.
In 1715 Alexander received a land grant of 222 acres in Richmond Co. VA. He died about 1730 in Fauquier Co. VA. His estate was inventoried by his son, Malachi.
Malachi's wife was Elizabeth. She may have been Elizabeth Furr.
Circumstantial evidence: "Thomas Furr gives to Malacki Cummings and his wife Elizabeth, daughter of Thomas' wife Elizabeth "the 100 acres of land where he now lives".
Thomas Furr's will is witnessed by Thomas Cummings: Fauquier County VA. Minute book, 1801-1803 pp. 799, March 1803
Note: Malachi's brother was I believe, Simon Cummins who married Elizabeth Harrell. Simon was born about 1710 and died in 1771 in Fauquier County, Virginia. I believe that other siblings were William Cummins and Moses Cummins, among others.
It is my belief that Malachi and Elizabeth's son is Malachi Cummins, Jr. whom I describe here. Malachi probably moved to Tennessee around the time that he authorized this selling of his land: Malachi Cummings gave Jacob Adams power of attorney to sell land for him in November 1799 in Fauquier County, Virginia. This is recorded in Deed Book 1 page 297 in Henry Co.VA
The gravestone reading regarding the birth of Malachi in Scotland has many of us puzzled. Does it show that he was indeed born there, his ancestry was Scottish, or there is something yet to be discovered?
Malachi's son Joseph, soldier of the Revolution, date of birth matching that of Joseph Cummins of Fauquier County Virginia.
According to his gravestone, Malachi was born in Scotland in 1744. Died 1818 in Tennessee. Headstone states that Malachi is the father of Joseph Cummings, Rev War Soldier.
Malachi's wife was Verlinda Taylor, whose father, James Taylor, lived in Henry Co, Va., Patrick Co Va and possibly Loudoun Co VA early on. Verlinda's mother was Eleanor Smith.
Patrick County Court records show the links between these families. One example below.
PATRICK COUNTY, VA - COURT - Court Order Book "O" (Selected Entries, 1792) JULY COURT (9 July 1792) A Deed from James Taylor, to William Smith Senr., George Carter, John Medley Senr., James Taylor, Joseph Cummings & David Taylor, Acknowledged & Ordered to be recorded.
Joseph Cummins and wife, Rosannah
Rev War, Pension TN; no. 1659
TN -1840 pensioners list, he was age 78.
Joseph Cummings , age 78 , District No. 15 ;White County, Tennessee, Middle District
White County, TN now Van Buren County, TN
Rosannah, wife of Joseph Cummins is thought to be Rosannah COLLIER SEILERS/SELLARS, daughter of JOHN COLLIER/COLYER and GREZELDA TAYLOR. Her stepfather was John MEDLEY. Herein lies the confusion. Some think Joseph was twice married. First to Rosannah Collier/Sellars and secondly to Rosannah Medley. Since Rosannah's stepfather was John Medley, I believe she may have used the Medley name for a period of time and thus Joseph was married only once. A death record for a Rosannah Sellars early on, I think is for another person, not the wife of Joseph Cummins.
Rosannah was born in Virginia in 1765 and died in White County TN (now Van Buren Co TN) in 1839.
~~~~~~~
NOTE OF CAUTION: IT HAS NOT BEEN PROVEN THAT RACHEL CUMMINS WHO MARRIED WM. HURST IS THE DAUGHTER OF THIS PARTICULAR JOSEPH CUMMINS.
Daughter of Joseph and Rosannah is RACHEL CUMMINS who was born about 1782, probably in Fauquier County, Virginia. She died sometime after 1840. She married William Hurst.
"Loudoun County, VA, Marriages: 1760-1850" by Vogt & Kethley, William Hirst and Rachel Cummins were married on 22 Jan 1798, with bondsmen William Hirst and William Cummins, with father Joseph Cummins giving consent.
Their son, Samuel Hurst 1808-1818 and wife, Lucinda Hurst are my gg-grandparents. Wythe County, Virginia.