Presented by Deborah Shelton Wood
William Herbert, a Welshman, who lived in Bristol England with his wife, Sarah Fry, came to Virginia at the request of John Chiswell who had "acquired" the Indian land along the New River in Wythe County, Virginia, which was rich with metals and ores.

William Herbert is said to have been raised in the metals business and was expert and hardworking as a refiner and smelter of ores and silver.

When Chiswell and his partners could not make a go of smelting at the Wythe County lead mines he requested Herbert and his family to move from England to the wilderness of Virginia.

Herbert, his wife, Sarah, her maidservants, his parents and his brother and sister came to the Chiswell mines.

William's expertise in ores and managing the local mine workers made mining lucrative for Chiswell and gave all an opportunity for success.

William Herbert became captain of a Virginia Militia Company and thus acquired much land. He had many other successes and accomplishments throughout his life. The mines of course, had to be reopened as lead was scarce and was much needed during the Revolutionary War. The molten lead would be dropped from the "Shot Tower" into the waters of the New River below, thus forming a ball or "shot" used for ammunition. The Wythe County Lead Mines was the main source of lead for the colonies.

WILLIAM HERBERT was a Captain of Militia in Lord Dunmore's War. From Library of Virginia "Fincastle County, Company Commander: Capt.William Herbert."

When the new County of Botetourt was formed, William was Justice of the Peace in 1770.

He was founder of Boiling Springs Presbyterian Church. HISTORY OF ABINGDON PRESBYTERY by Goodridge A. Wilson, Jr.

I am a descendant of William Herbert via his daughter, Joanna who married Lawrence Stephens. Please see my Stephens page for more information on that family.

His homeplace was named "Poplar Camp",the present day Wythe County community being named for his home.
William Herbert's parents were David and Martha Herbert. His brother was David, Jr. His sister was Mary Herbert Jenkins. Others may have a more complete family for William. The children I know about were Joanna, Thomas and Billy ( William, Jr) as mentioned in the book , Wythe County, Virginia Bicentennial History by Mary Kegley, 1989.
Joanna HERBERT married Lawrence STEPHENS, son of Peter STEPHENS Jr. and Anna Maria CHRISMAN. He was born ABT 1755 in Frederick Co VA, and died 3 May 1847.


Child of Joanna HERBERT and Lawrence STEPHENS is:
Rhoda STEPHENS was born 10 Apr 1794 in Wythe Co Virginia.
She married John EARLY.

Child of Rhoda STEPHENS and John EARLY is:
Nancy EARLY was born 17 Mar 1815, and died 17 Nov 1882 in Carroll Co VA.

Nancy EARLY was born 17 Mar 1815, and died 17 Nov 1882 in Carroll Co VA. She was buried in North End Cemetery, Carroll Co VA. She married Isaac FARMER on 8 Mar 1832 in Grayson Co VA, son of James FARMER and Susannah. He was born ABT 1808 in Grayson Co VA, and died 1890 in Carroll Co VA. He was buried in North End Cemetery, Carroll Co VA.

Child of Nancy EARLY and Isaac FARMER is: Virginia Elizabeth FARMER was born 1847 in Carroll Co VA, and died 18 Jun 1889 in Wythe Co VA.

Virginia "Jenny" FARMER was born 1847 in Carroll Co VA, and died 18 Jun 1889 in Wythe Co VA. She married Rufus F. HURST 28 Jul 1861 in Wythe Co VA, son of Samuel HURST and Lucinda HURST. He was born 14 Aug 1838 in Wythe Co VA.

Child of Virginia E FARMER and Rufus F. HURST is: Alice HURST.Child of Alice HURST is: Neva HURST

Neva HURST was born 1894 in Wythe Co VA, and died in Wythe Co VA. She married George Madison SHELTON, son of Charles Madison SHELTON and Nelia Frances NAPIER. He was born 8 Jul 1881 in Patrick Co VA, and died Jun 1978 in Wythe Co VA.

"Powis Castle is situated one mile south of Welshpool. It was bequeathed to The National Trust in 1952 by the 4th Earl of Powis and has been maintained by the Trust since that time.
The castle dates back to the 12th century; built by Welsh Princes near the border with England. Sited on a hill and built of red gritstone, it dominates the landscape.
During the Civil War, the Earls of Powis supported the Royalist cause and the castle was captured by Parliamentary forces in 1644 and not returned to the Herbert family (who purchased it in 1587) until the restoration of the monarchy in 1661.
Powis Castle has been very much a home to the Herbert family and has had several major refurbishments.
In Penmon Wales, the CWMYSTWYTH MINING COMMUNITY there still exists Jenkin and Herbert families with men named David and William, who mined Lead in this town as late as the 1900's. These families were orignally from Abergavenny, Monmouthshire, Wales.
National Library of Wales

Sir Edward Herbert (d. 1595) was the second son of William Herbert (c. 1501-1570), 1st earl of Pembroke. In 1587 Sir Edward bought Powis Castle.His son, William Herbert (1573-1656), was created 1st baron Powis. His grandson, William Herbert (c. 1629-1696), 3rd baron Powis, was created Marquis of Powis. Barbara Herbert (1735-c. 1786), being the posthumous daughter and heir of Lord Edward Herbert, the 3rd marquis's only brother. She married Henry Arthur Herbert (c. 1703-1772) of Oakley Park, Montgomeryshire, in 1751. He was only remotely related to the late marquis (their common ancestor being Sir William ap Thomas, eight generations previously), but had already been created Earl of Powis in 1748, only two months after the death of the late marquis (and earl) of Powis, and three years before he married the marquis's heiress.
Records of the Herbert family of Montgomery, Chirbury and Powis Castle, later earls of Powis,including records of the Powis Castle estate, including title deeds, mainly in Montgomeryshire and adjacent counties, notably Shropshire, 13-20 century.; records of lead and silver mining in Cardiganshire, 18-19 century..
Fry/Frey of Wales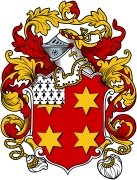 Transcription of the Last Will of William Herbert