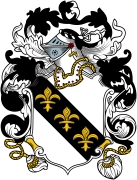 Capt. Thomas Shelton and Elisabeth Allen married in Patrick County, Virginia in 1835. They were my gg-grandparents. Aside from farming, Thomas was a tanner and saddler by trade. Their son, my ggrandfather, Charles Madison "Maddy" Shelton, is recorded in "Chaitaigne's Business Directory" as teaching and apprenticing young men in the art of tanning and leather working. He was also a Civil War Veteran and POW. Maddy Shelton married Nelia Frances Napier. Their son, George Madison Shelton (1881-1978) was my grandfather.

My grandfather, George Madison Shelton was born in Patrick County, Virginia in 1881. George and his wife, Neva Hurst lived in Wythe County, Virginia. George lived to be almost 97 years of age.

This site is dedicated in loving memory of my aunt and best friend, Nellie Mae Shelton 1920-1995, daughter of George and Neva.

Thomas SHELTON (son of Josiah and Frances SHELTON) was born about 1813 in VA. He married Elisabeth D ALLEN on 15 Jan 1835 in Patrick Co VA, daughter of C. Anderson ALLEN and Sarah TILLEY. Elisabeth was born 1814 in NC.

Children of Thomas and Elisabeth D. SHELTON

Josiah A SHELTON was born 1835 in Patrick Co VA; Killed in action, Civil War, Co. I of the 24 Virginia Infantry.

William J SHELTON was born 1837. He married Lucinda Shelton, daughter of Absalom Shelton and Mary Thompson.

James P SHELTON was born 1841 in Patrick Co VA, and died 1862 in Williamsburg, Civil War, Capt. Andrew M. Lybrook's Co. Co. I, 24th Virginia. This battle is also referred to as the Battle of Fort MacGruder James P. Shelton was a saddler by occupation and served as a medic in the war.

Mary Jane SHELTON was born May 1842 in Patrick Co VA, and died 11 May 1904. She married Aaron Yates Blackard in 1867.

Charles Madison "Maddy" SHELTON was born about 1843 in Patrick Co VA, POW Civil War, 58th Virginia Infantry; Company H. Maddy married Nelia Frances Napier in 1867.

Sarah E SHELTON was born 1844 in Patrick Co VA.She married Joseph F. Wimbish in 1874.

Lucinda Frances SHELTON was born about 1845 in Patrick Co VA. In 1873, she married James Peyton Mills.

Peter T SHELTON was born 1846 in Patrick Co VA. In October of 1866 he married Demarious "Mary" Napier.

Susan R SHELTON was born 1847 in Patrick Co VA. Susan married in 1872 to Samuel Z. T. Newman.

Martha A SHELTON was born 1849 in Patrick Co VA. She married Edward S. Young in 1874.

Samuel E SHELTON was born ABT 1855 in Patrick Co VA. In April of 1876 he married Sarah A. "Sis" Hazelwood.

George W SHELTON was born 14 Jun 1853 in Patrick County, Virginia.

Thomas' father, Josiah SHELTON was born ABT 1775 in Middlesex County,Virginia, and died 1864 in Patrick Co VA. He was the son of Josiah and Elizabeth SHELTON; He married Frances FORD, daughter of Henry Ford,;in MAY of 1797 in Halifax Co VA. She was born ABT 1779.

Children of Josiah SHELTON and Frances FORD

Mary Ann "Polly" SHELTON was born ABT 1802. She married William EDWARDS. He was born 1798 in Franklin Co VA.

Frances SHELTON was born ABT 1812. She married Lewis SHELTON.

Thomas SHELTON born 1813. He married Elisabeth ALLEN in 1835.

Levi SHELTON was born ABT 1814.In October of 1839,he married Phebe Allen, sister to Thomas' wife, Elisabeth.

Giles SHELTON was born 19 JAN 1818 in Pittsylvania Co VA, and died 5 JUL 1858 in Patrick Co VA. He married Nancy SPENCER 10 OCT 1839.
Unproven, but it is my belief that other children of Josiah Shelton and Frances Ford were Absalom and John. In the 1820 census there were several more children in the home of Josiah Shelton, Jr.


The elder, Josiah SHELTON Sr, grandfather of Thomas Shelton of Patrick County, VA, was born 1735 in Middlesex Co VA, and died 1797 in Lunenburg/Halifax Co VA. He was the son of Thomas SHELTON and Mary PROBERT

Children of Elizabeth and Josiah Shelton, Sr. were

Josiah SHELTON was born ABT 1775 in VA, and died 1864 in Patrick Co VA. He married Frances FORD 16 MAY 1797 in Halifax Co VA.
Godfrey SHELTON He married Mary/Martha Hughes WILLIAMS in 1788.
Absalom SHELTON was born about 1765 and married Mary CLEMENTS in 1792.
Anne SHELTON born about 1769,married Benjamin CLEMENTS. Ruth SHELTON was born around 1771 and married Jesse MURPHY in 1792.
Martha "Patsy" SHELTON born about 1773, married James Dabney CRENSHAW in 1797.
Charles Madison Shelton Estate and list of Heirs
Last Will of Josiah Shelton, Sr of Halifax Co VA
Click here to view the Estate of Thomas Shelton, of Patrick County, Virginia
Miscellaneous Shelton Document Transcriptions
The debate is still active as to the correct parentage of this Ralph Shelton of Middlesex Co VA. One recent DNA test result would suggest the line is connected to the Norfolk England line. My hunch is that they indeed are related to the Ralph Shelton of Norfolk England. Even the Whittaker book which was corrected and amended via articles posted as "The Shelton Family, by A. E. Whitaker" 1929 in "William and Mary Quarterly" Second Series, Vol. 9, No. 3 (Jul., 1929), pp. 201-208 explains the evidence for linking the Virginia family of Ralph Shelton to the Norfolk England Sheltons. Sir Ralph Shelton of Norfolk England had son James Shelton whose name was misspelled in some Virginia records as Skelton. Nevertheless, the Gentlemen of the Second Virginia Company who were with the Norfolk Shelton family related that "Sir Thomas Shelton, Gentleman of Norfolk England" buried in St Peter's Church of the Queen of England, was the son of Sir Ralph Shelton and his first wife, Mary Wodehouse. Thomas son of Ralph had a son Thomas Shelton who came to Virginia. The elder Ralph was the son of Thomas Shelton and and wife Elizabeth Flowerdew and this Ralph was knighted at Theobald's in 1607 as "Sir Ralph Shelton".
Written by Deborah Shelton Wood